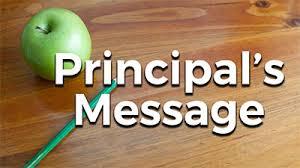 Dear Coldwell Comet Students, Families and Friends,
   Thank you.  It seems that the words "Thank You" do not quite measure up to the tremendous appreciation that we have for all of you.  You have shown incredible support and understanding as we prepared for the start of school.  The students have warmed our hearts as they returned last week and we are grateful for the spirit which they bring to our school.  We have certainly appreciated the kind messages that have acknowledged our team's hard work to create such a caring environment. 
   The staggered start allowed us a good opportunity to welcome students and help them become familiarized with the new procedures.  We now welcome all students to attend school beginning Monday, September 14th, 2020.   Please remember school begins at 9:08 a.m. and concludes with an afternoon recess beginning at 3:22 p.m.
  Please observe that there is a NO STOPPING ZONE immediately in front of the school.  This zone is marked with yellow pylons. This is important for sight lines when students are arriving and leaving school. 
  When students are late for school, students are asked to enter the school using the front doors.  Here, they will be greeted and directed to their classrooms.
  We were so pleased to welcome some new faces to the Coldwell Family this year.  Welcome Ms. Curtis (Grade 3/4), Mr. Manz (Grade 4/5), Ms. Sharma (EAL) and Mrs. Ellis (Educational Assistant). 
  We will have another change in the coming days.  Ms. Bell has been given the opportunity to be part of eSchool. It is so apparent that Ms. Bell loves the Coldwell families, students and staff.  But we also know, eSchool students and families will certainly benefit from her presence and experience in this new learning environment.  We wish her well. Learning will continue for the Grade 6/7 students this week as we welcome a new teacher to MJ  Coldwell.
  A huge thank you to Jocelyn Curtis.  Jocelyn has had a significant role with the school and the Coldwell School Community Council (CSCC) over the years.  She has served the council in many capacities including president and treasurer.  Thank you again Jocelyn. 
  With this in mind, we invite parents and community members to be part of the Coldwell School Community Council.  Our Annual General Meeting will take place on Wednesday, October 14th, 2020 at 6:30 p.m.   You may choose to participate in this meeting at the school or virtually.  For more information, please visit our school website or contact our main office at (306)791-8563.
  Orange Shirt Day is Wednesday, September 30th, 2020.  It is a legacy project which provides valuable learning and conversation about residential schools, truth and reconciliation.  Orange Shirt Day came about when Phyliis (Jack) Webstad told her story of her first day at residential school when her new orange shirt, bought by her grandmother, was taken from her as a six-year-old girl.  MJ Coldwell School will honour Orange Shirt Day with an age appropriate curriculum.  We also invite students, staff and community to wear ORANGE on September 30th.
  Picture Day will be held on Friday, October 16th, 2020.  Lifetouch Photography will be providing their services to take individual student and staff pictures.  Please note that they will be taking the necessary COVID-19 precautions and will not be taking group, or class photographs. 
Sincerely,
Grant Urban, Principal
Home of the Comets
Every Student Counts, Every Moment Matters